Description
FOR OCCASIONAL CONSTIPATION*
Senna is flowering herb that grows best in tropical regions. Its leaves have been traditionally used as a laxative for occasional constipation and are often made into beneficial teas for that purpose.* Keep Nature's Way Senna Leaves on hand when it's time to answer the call of nature.*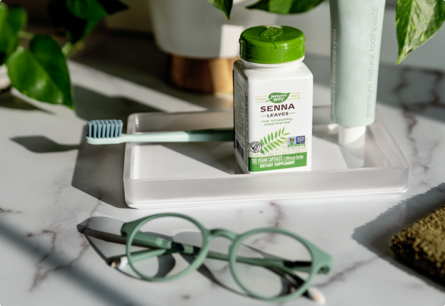 WE GO WHERE HERBS GROW BEST
At Nature's Way, we believe that nature knows best, and that the gifts of nature can enrich your wellness journey. We travel across the globe to source herbs from the continents and climates where they grow best. It's how we deliver the uncompromising quality we're known for and help you live your healthiest life.

OCCASIONAL CONSTIPATION RELIEF*
Senna leaves have been used to help relieve occasional constipation.*
UNCOMPROMISING QUALITY
Senna Leaves are Non-GMO Project verified. It is also TRU-ID Authenticated so you can rest assured that what's on the label is what's in your bottle, every time.
RESPONSIBLE PACKAGING
We give back to the earth that gives us so much. This bottle is made from 97% post-consumer recycled materials. Help us protect this place we call home and recycle your bottle.